Why Cardi B Leaves Jimmy Fallon Show on The Tonight Show With Jimmy Fallon Show
Scroll Down To  Read  full Story
From the moment Cardi B joined Jimmy Fallon in Studio 6A Wednesday, the rapper left the Tonight Show host speechless. Jimmy began by congratulating her on the success of "Bodak Yellow," so Cardi B thanked him, made a silly sound effect and shimmied in her seat. Jimmy apparently had no clue how to proceed…so, he asked her about he origins of her stage name.
Also Like : Selena Gomez Spotted On Miami Beach Looking Very Hot
"My sister's name is Hennessy, so everybody used to call me Bacardi," she said. "So I used to call myself Bacardi. And then it was my Instagram name, like Bacardi, Bacardi B, but for some reason, my Instagram kept getting deleted, and I think it was Bacardi that had something to do with it. So I just turned it to Cardi B."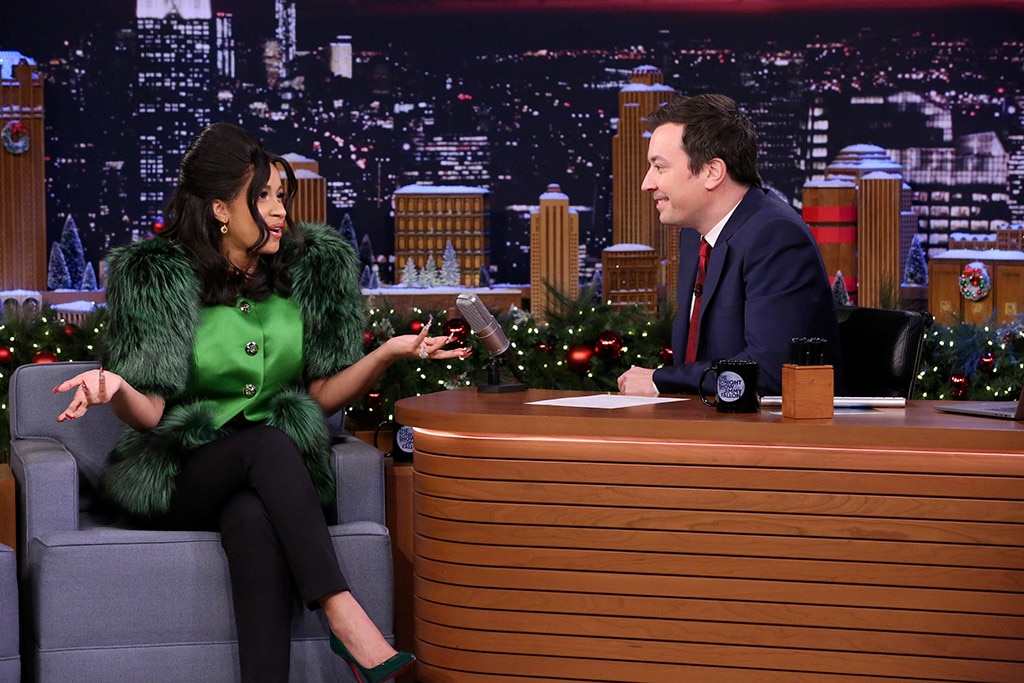 Cardi told Fallon she'd be going back home to the Bronx for the holidays but that she had a new rule this year: Only the kids get presents.
"You wanna know something? Everybody that I know got kids, and that's just a lot of kids," she said. "And I got new godkids outta nowhere. You know, once you start making money, everybody wants you to be their kids' godmother."
Cardi was also quick to show off her new (and gigantic) engagement ring from Migos member Offset but urged the cameras not to zoom in.
"Don't get too close because I ain't put lotion on my hands," she said. "It's wintertime."
"You know, he always used to tell me, 'I'm gonna marry you.' And I'm just like, 'Mmmhm, it's the right thing to do,'" she said of Offset. "I know he was gonna get me a very expensive gift because he wasn't there for my birthday, but I thought he was gonna get me like a watch of something. He just went out his way."